Published by GICexpat
Recently, a number of Chinese embassies and consulates abroad have issued notices updating the relevant requirements for passengers from aboard flights to China with negative nucleic acid test certificates. Additionally, they have made some adjustments regarding the validity of the nucleic acid tests.
According to the latest requirement, the time limit for the nucleic acid test report of passengers on flights to China is 3 days (72 hours).
Earlier, some Chinese embassies and consulates overseas issued a notice saying that the valid time of nucleic acid test report was 5 days, and then issued a notice again later, which changed from 5 days to 3 days.
This change must be noted by all international passengers.  If you make a mistake, the nucleic acid test report in your hand will be useless.
In other words, passengers taking flights to China should complete nucleic acid testing within 3 days before boarding, and foreign passengers should accomplish a health status declaration form on the basis of a negative nucleic acid test certificate.
It is suggested that passengers traveling to China should confirm the time limit of the required test report through the information release platform of Chinese embassies and consulates in the local area before taking nucleic acid test, so as to ensure that the test report obtained meets the requirements.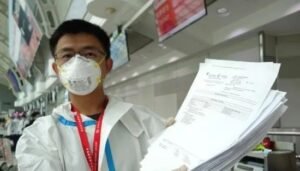 In principle, the time for uploading the nucleic acid test report should be within 12 hours after receiving the report and no later than 24 hours before boarding.
If you are not sure about the issuing time of nucleic acid test report, it is suggested that before booking the air ticket, you should first get the information from the testing institution to avoid being affected by weekends or local holidays. This is to make sure that the test report can be obtained on time for your flight.
It is suggested that before testing, the relevant documents of nucleic acid test certificate format should be found on the information release platform of Chinese embassies and consulates in the local area, and the certification should be standardized when issued by testing institutions.
Recently, in some places, personal information such as names and passport numbers on nucleic acid test certificates of passengers traveling to China were found to be incorrect, resulting in flight delays.
Reminder: When obtaining the paper test certificate from the testing institution, personnel who are going to China should check their names, passport numbers and other personal information on the spot, and ask the testing institution to correct any errors in time.
When you travel internationally, pay attention to the whole flight. As much as possible, reduce close contact with others.
Wish you a safe and smooth journey!