Professor Sulejman Kodra
Professor Sulejman Kodra is one of the central founders of LSIA, serving as a leading Chairman since its establishment in Albania, in 1994. He is an active medical doctor and has served as the Professor of the Faculty of Medicine at Tirana University Hospital Center for over 40 years. Professor Kodra is a respected intellectual in Albanian and European academic circles, continuously participating and contributing to scientific works and publications, and serves as a guiding educational and humanitarian pillar of LSIA.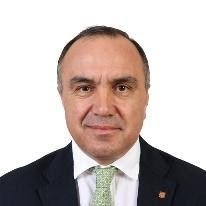 Ambassador Genci Mucaj
Ambassador Genci Mucaj graduated from Tirana University in 1997, where he majored in English and American & British Studies. During his academic pursuits, he co-founded LSIA, becoming a board member, and eventually leading as Executive Director. Amb. Mucaj served as CEO of LSIA until being appointed to the distinguished Albanian Foreign Service in 2005, where he served as the Albanian ambassador to the Republic of Turkey from 2013-2016. During his leadership, he oversaw 30,000 students' enrollment to LSIA's sprawling chapters in Albania, Macedonia, and Kosovo, nurturing its growth through his partnerships with organizations around the world.
Professor Fatmir Vrapi
Academic Director & Board Member
Professor Fatmir Vrapi has acted as the Academic Director of LSIA and was a co-founding member since its inception. With over 35 years of academic experience, Prof. Vrapi has developed the curricular programs and examination standards used throughout LSIA's history. Serving as Head of the Foreign Language Cathedra at Polytechnic University of Tirana since 2002, he has authored numerous articles and publications and remains a respected intellectual force in the field of education.
Gjergji Çiço
Gjergji Çiço serves as a board member of LSIA, holding the position of Director of Korça since 2002. Mr. Çiço is a revered intellectual in his hometown and beyond. LSIA curriculum and direction have benefited significantly from his positions as an educational director, journalist, translator, and social activist for 40 years. His contributions to publications in his respective fields circulate nationally and internationally and are innumerable.